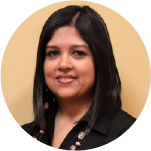 Dr. Poonam Bhana
O.D. Therapeutic Optometrist
I want to take this opportunity to thank our patients for choosing V EYE P to be your eye care + eyewear provider. The most gratifying part of being a Therapeutic Optometrist is that I get to help improve people's quality of life by improving their vision and eye health.
A little about me: I graduated in 2003 from The University Of Auckland, New Zealand, with a Bachelor of Optometry Degree with Honors. There, I began my professional career at a multi-location practice in the Auckland region. Soon after relocating to the United States, I attended The New England College of Optometry in Boston. I graduated from the Advanced Standing International Program in 2008 with a Doctor of Optometry Degree. I then joined an ophthalmology practice in Plano specializing in Lasik and Cataract surgery and, during this time, obtained the Glaucoma Specialist certification.
In 2010 I decided to return to the private practice setting as I thoroughly enjoy providing care to patients of all ages and building long-term relationships. I strive to give the best service and quality of care when providing comprehensive eye exams, therapeutic treatment of ocular diseases, management of refractive errors with glasses and contact lenses, and fitting specialty contact lenses for ocular surface diseases. I often find myself in our optical department, frame styling patients to find their perfect pair of eyeglasses. I take great pride in all aspects of the practice to ensure our patients have a memorable experience during their visit.
My husband Rinesh and I have two extremely energetic children, Ishan and Sanaya, who keep us very active and entertained outside of work. During our free time, we enjoy socializing with our family and friends, cooking, and traveling.
BACK TO ABOUT