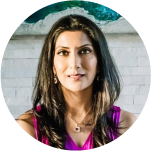 Dr. Rita Patel
O.D. Therapeutic Optometrist
A little about my practice
V EYE P was established in June 2006. Thanks to our patients and their kind referrals, we expanded to Las Colinas, Carrollton, and Preston Hollow. We are a primary care optometry practice caring for patients with eyeglasses and contact lens needs. As a therapeutic doctor, I help patients suffering from many eye conditions related to diabetes, allergies, infections, glaucoma, cataracts, redness, and dryness. I love a challenge and enjoy working with hard-to-fit contact lens patients. No matter the reason for your visit, my goal is to provide exceptional eyecare and education and high-quality eyewear to all of our patients, no matter your budget.
About me
I graduated from Indiana University College of Optometry in May 2003. Shortly after graduation, I obtained a license to practice in Texas and became therapeutic and glaucoma certified. My husband and I moved to the DFW area in 2004, shortly after I began my career in optometry. After practicing for a couple of years, I decided to start my own practice in Las Colinas. I thoroughly enjoy seeing patients, and you will often find me in optical "frame styling" my patients. I absolutely love hand-selecting unique pieces to add to our frame collections and working with patients to find the best look and fit for their new eyewear.
On a more personal note
My husband Paresh and I have been married for 18 years and have two children. Work and family keep us very busy. Our hotel investment and management company, Kriya Hotels (kriyahotels.com), was established in 2004 to give structure to and manage our family-owned businesses in the DFW area. In my free time, I enjoy spending time with my family and friends, watching movies, traveling, and skiing. Health and fitness are a big part of our lives. And I love fashion, design, and a killer pair of shoes!
Thank you again for visiting our website. I look forward to meeting you!
BACK TO ABOUT